The most successful idea of using a balcony space is to turn this small and overlooked space into a cozy and functional space. During the pandemic, people greatly appreciated even the smallest open spaces where they relieve daily stress. Therefore, it is very important that your house has at least one small balcony for comfort and relaxation.

A cup of coffee in the morning on a comfortable balcony or admiring the sunset after work will significantly improve your mental and emotional health, which is quite a priority today.

If you are fond of gardening, but your dreams are hindered by walls and railings, then this blog is a must-read. Here are some ideas on how to use walls and railings to make the balcony colorful, comfortable, and biophilic.

1. Choose a folding bistro set for a balcony

When buying garden furniture for a balcony, it is important to choose items that save space. The bistro set is compactly folded to maximize floor space. At the same time, the cheerful citrus yellow color will refresh your small space. Choose the color of the pots in citrus tones to decorate the entire space.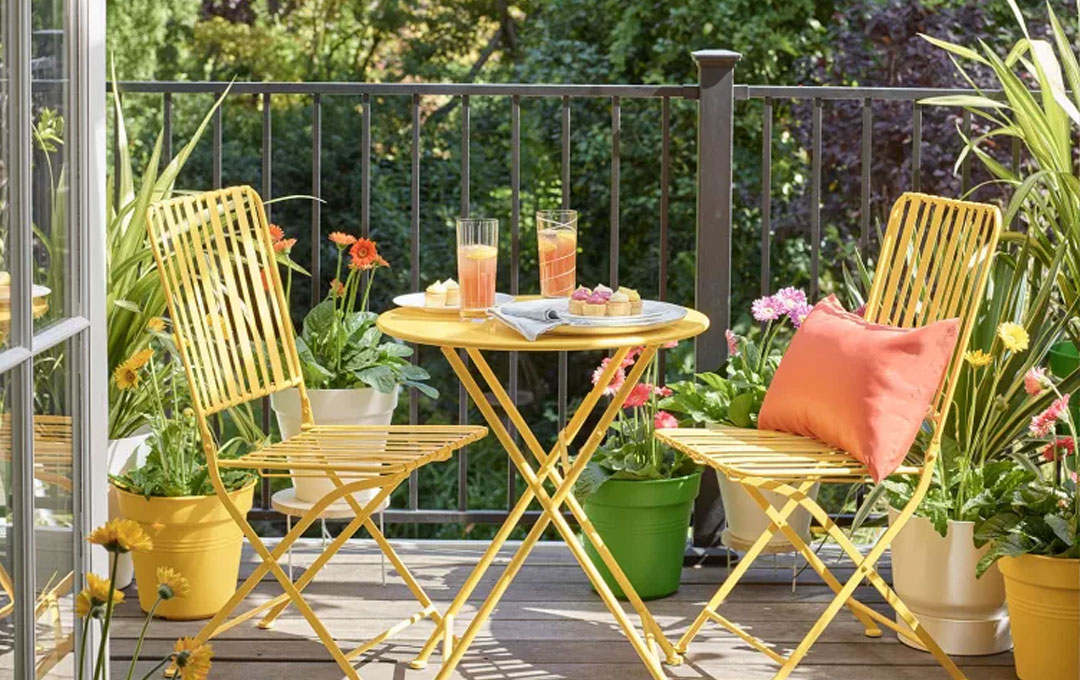 2. Create a personal space

If personal space is a priority for you and you prefer the balcony to be more isolated from neighbors, then try attaching waterproof panels around the railing. This fabric is the best alternative, as it does not block the penetration of sunlight and at the same time protects you from prying eyes.

Placing flower pots on the railing is another great solution for both greater aesthetics and insulation. Placing an umbrella will protect you and your plants from the sun and at the same time improve your sense of personal space.

If you want to brighten up the balcony, lay colored floor tiles. Who said that the painted floor is only for indoor space?!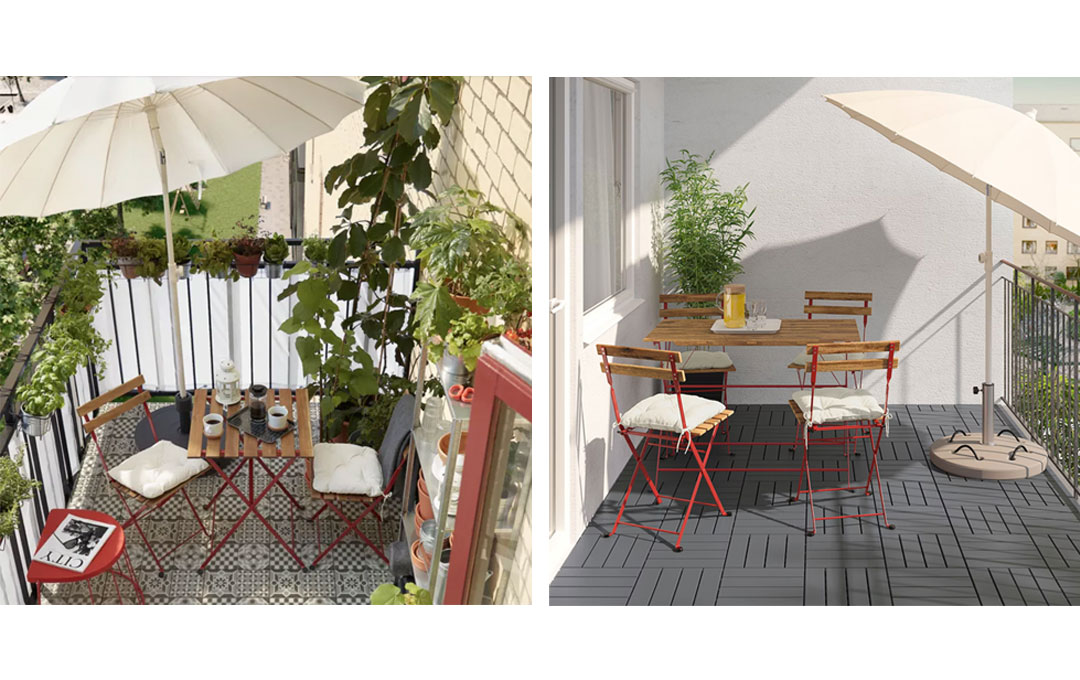 3. Create a kitchen area on the balcony

Outdoor cooking is quite popular in Mediterranean cities. Fortunately, the climate of our country also allows us to enjoy a balcony 5-6 months a year. To do this, you will need several storerooms, shelves, and a small so-called bistro table chair set. Keep in mind that the furniture should be chosen according to your space. Measure well the place where you are going to install storage units and shelves. Try to save space as much as possible, because the whole idea of creating a summer kitchen is to enjoy this space.

Cooking outdoor allows you to diversify your dishes. If you buy a small oven, you can bake a variety of dishes, such as fish, pizza, lasagna, pastries, and much more. Add a soft drink to the cooking process, invite friends and enjoy the new environment.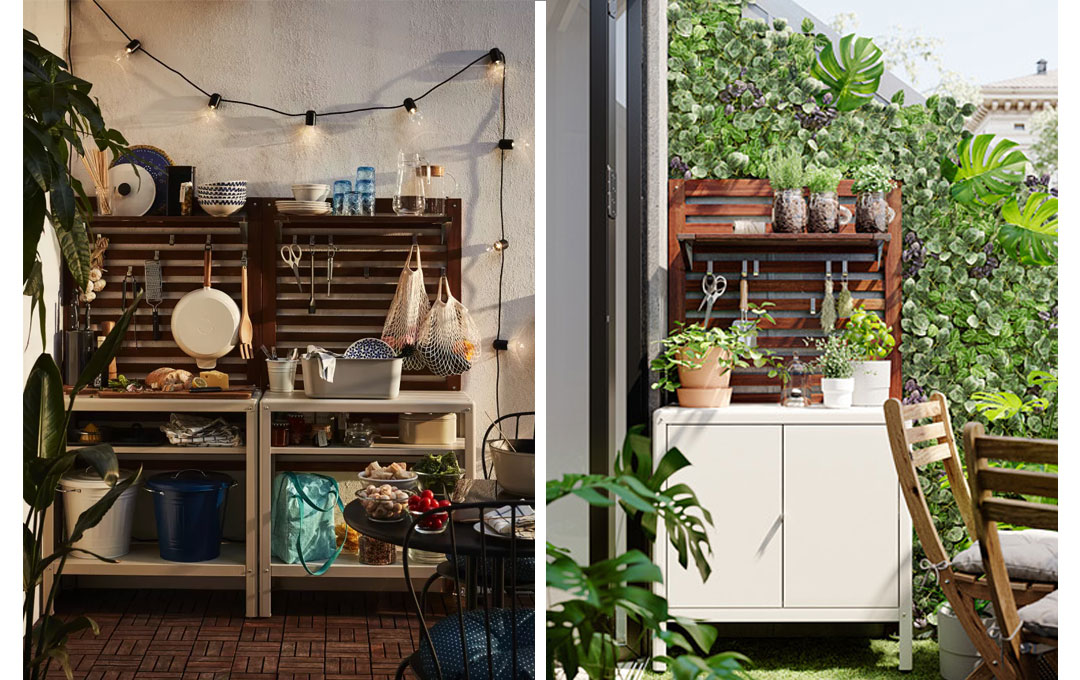 4. Balcony green wall

As already mentioned, the pandemic has shown people the value of time spent in nature. That is why the use of plants as decoration has recently become very relevant in interior design. In addition to aesthetics and decoration, plants can create health and harmony. Enjoying the plants while relaxing on the balcony makes the feeling of calmness even more intense. Wall plants are the best option for small balconies, as they take up a minimum of space. In addition, the wall decoration will make your balcony original and interesting.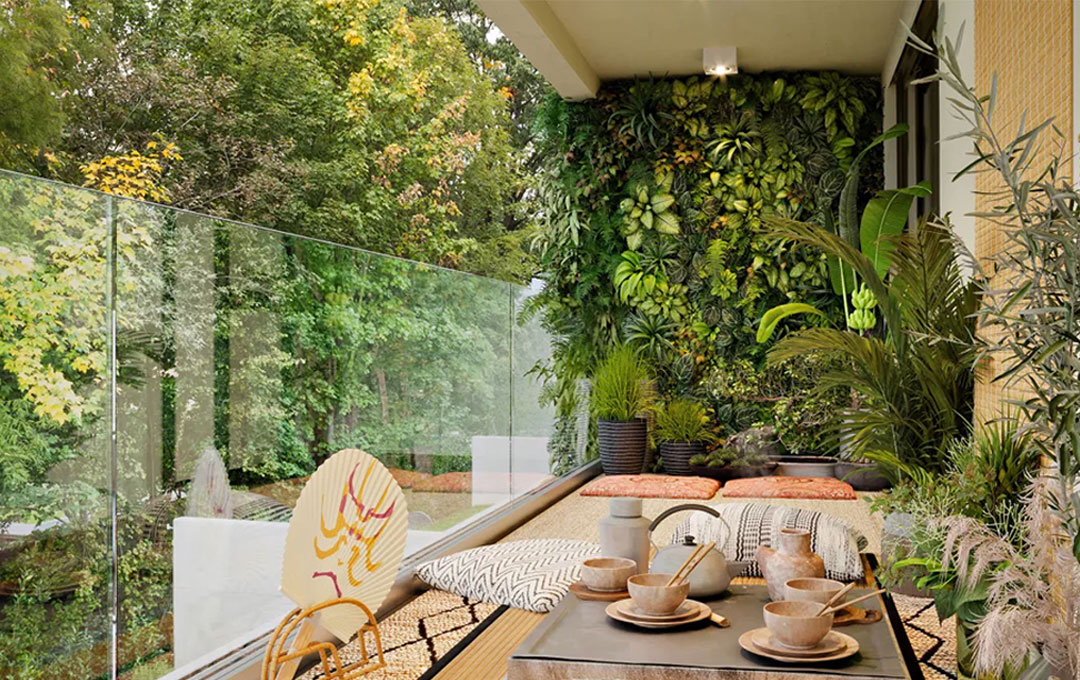 5. Living room area on the balcony

If you like to spend time on the balcony and the space allows you to do it, create maximum comfort and turn it into a living room. It will also expand the space of your home. Choose furniture that is easy to clean from dust. Hanging small lamps to create a more romantic and cozier atmosphere. Add plants to the balcony and enjoy the outdoor living room.

Note that in addition to the highest quality, ecologically clean building materials and the service of a Personal Advisor, Archi also offers its residents Archi Cards. With the help of Archi Cards, you can enjoy discounts at home textile, furniture, jewelry, and plant stores. Detailed information about the discount card can be found on our website.