Residential buildings with beautiful and unusual exteriors provide a great contrast to the city of Tbilisi and make it even more charming. Archi Nutsubidze architecture is among Tbilisi's most unusual designs. The 10-story building is decorated with adjustable wooden shutters. Its spectacular architecture has benefits for the residents. Apart from feeling cozy and confident in such apartments, the residents make a reliable and profitable investment by buying real estate there.
Archi Nutsubidze boasts about not only impressive architecture but a favorable location too. It is located in a very clean and green area on Avto Varazi Street, Nutsubidze Plateau IV. The building is 5 minutes away from Lisi Lake by public transport. It means that if you buy an apartment there, going to Lisi Lake will become your family's favorite weekend activity. Surrounded by well-developed infrastructure, the residents of the Archi Gldani buildings can easily walk to public transport stops, grocery shops, and schools.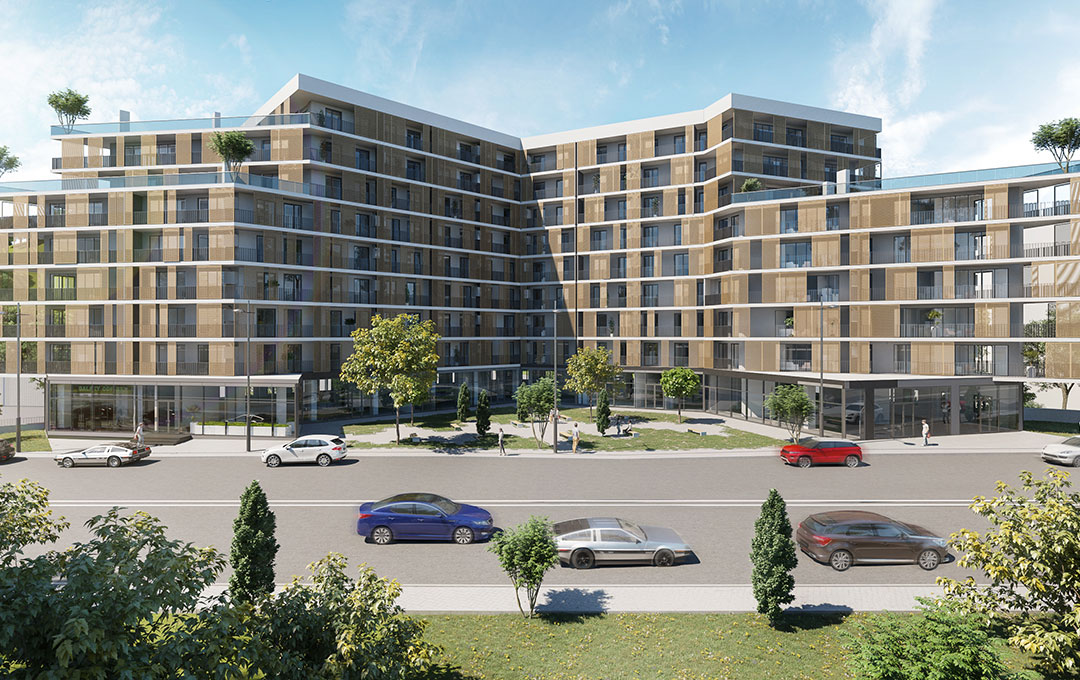 Archi plans to add more greenery to the Archi Nutsubidze area, encouraging the residents to follow a healthy lifestyle. The project will incorporate a 2000 sq.m. recreation area to provide Archi Nutsubidze windows with impressive panoramic views. Thus, the project is both esthetically and ecologically the best option for apartment seekers.
As for the building itself, the construction meets all the state laws and regulations. Some of the materials even exceed the standards set by the state. Have a look at the building materials used by Archi.
As mentioned above, the exterior of Archi Nutsubidze stands out by its unusual design. The high-quality Alucoband face tiles are used for external cladding. Most exterior face tiles lose color in 2-3 years due to low quality. Unlike other materials, the Alucoband exterior tiles maintain the initial look for decades. What's more, Archi co-operates with the company Heidelberg. The company provides concrete for Archi buildings. The Heidelberg concrete is a guarantee of construction durability and hardness.
Another important building material used by the company is the Ytong block. The Ytong block is an energy sufficient (energy consumption reduction by 40%) and ecologically clean building material manufactured in Germany. Composed of clean materials, the Ytong block does not release harmful chemicals due to temperature change between summers and winters.
Besides, Archi apartments incorporate metalloplastic windows and doors equipped with low-E glass. The low-E glass is energy efficient (thermal conduction reduction by 30%) and absorbs infrared and ultraviolet radiation. As a result, apartments are easier to keep cool in the summer and warm in the winter, leaving you with lower utility bills. Windows and doors in Archi Nutsubidze are decorated with stained glass.
Underground parking zones, two elevators, and two stairwells make the project even more valuable. Besides standard elevators, the project is equipped with emergency evacuation ones with a capacity of 1600 kg.
No wonder more and more apartment seekers choose Archi - the company offers a wide choice of apartments, custom-made planning, and best payment terms.