Today, many employers and employees are choosing to work remotely, either partially or fully. While working from home is convenient, it can also be a hindrance, because in an improperly organized workspace, we can be distracted and not be productive enough. If you also have to work remotely, read our tips on how to organize a small home office that will make you more productive and feel harmonious.
How to make the workspace more comfortable
Organization of the workspace does not mean only arranging the space beautifully. It is very important how functional and comfortable it is, and how effective it is for you to work in this space. For this, first of all, you have to choose the table correctly. If the space is too small, you can place a corner table. When choosing a desk, consider what you are going to use it for outside of work. Also, choose your office chair carefully, as sitting in an uncomfortable position will reduce your productivity to a minimum.
To save space, use floating shelves, which will help you to organize things properly. Such shelves will allow you to use various decorative elements. Decorations also express your personality and make the work process more pleasant.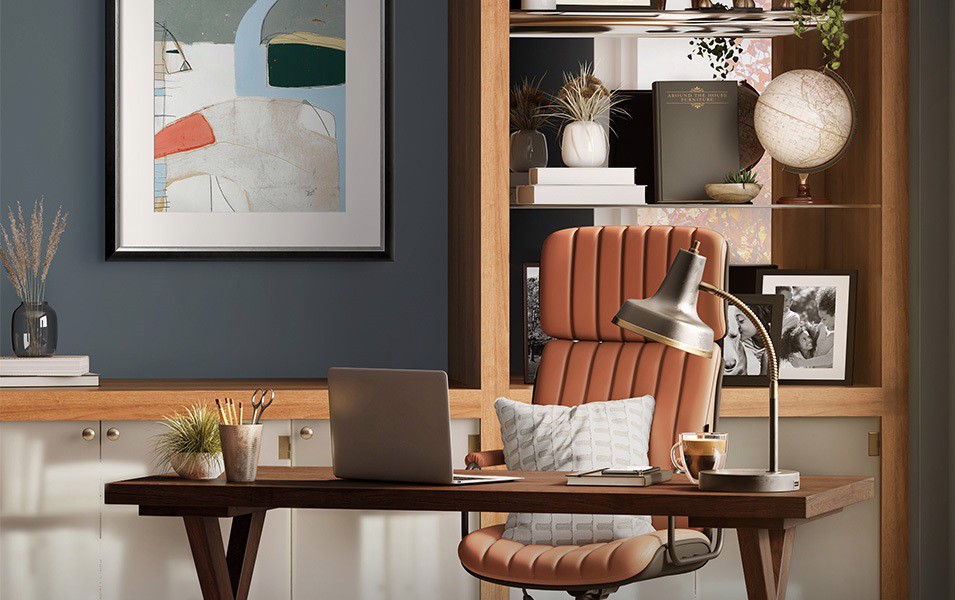 Home office decor
Greenery has a calming effect, so it would be good if you use green plants in the office, at the desk, or around it. Plants also encourage creativity.
Use a table lamp, which will be useful for video calls even in daylight. A well-lit desk will increase your productivity and improve your mood. The work space must express your individuality, the best way to do this is to hang a characteristic painting on the wall near the work desk. With this, you will also express your interests and make the space efficient. In the decorations, use such things and accessories, the look of which has a positive effect on you.
Everything you need to set up a small office at home can be bought at a discount from partner companies with an Archi card.
An Archi card is a discount card, which is given to you as a gift immediately after purchasing an apartment in Archi.