All teenagers are different from each other, some like to stay at home, others have a soul to go out. If you are planning to arrange a room for a teenager, you should try to make it so that it is enjoyable to be there regardless of the character. Our blog will help you to make your teenager's room like this. First of all, I will introduce you to the idea of three universal rooms.
A comfortable and modern room for a teenager
1. This room is ideal for a sports-loving teenager. The green couch and the floor of the bedroom evoke the association of the sports field. The separation of the bedroom and the distribution of spaces adds extra coziness to the room and creates the feeling of an independent apartment, as if it is a teenager's apartment and not a separate room. For adults, the feeling that they have their own apartment, their own corner is very special.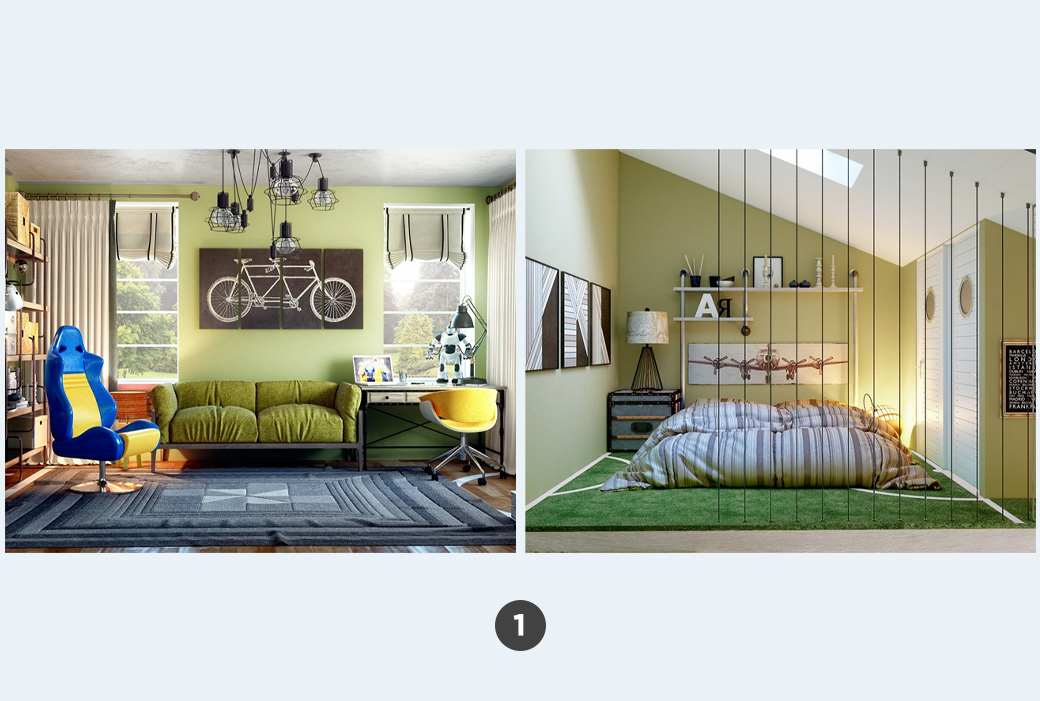 2. This room has everything for the comfort of a teenager. A slight darkening makes the space more personal. Study and relaxation areas are provided. However, the main part that makes the room special is the independent wardrobe. The wardrobe is separated in such a way that, in addition to storing clothes and shoes, it is also possible to change, it is a small room. Various textures are used as decor, which creates a modern interior and a comfortable space, making the teenager living in the room feel at home. A cozy corner by the window is an ideal place to relax with friends or to read a book separately.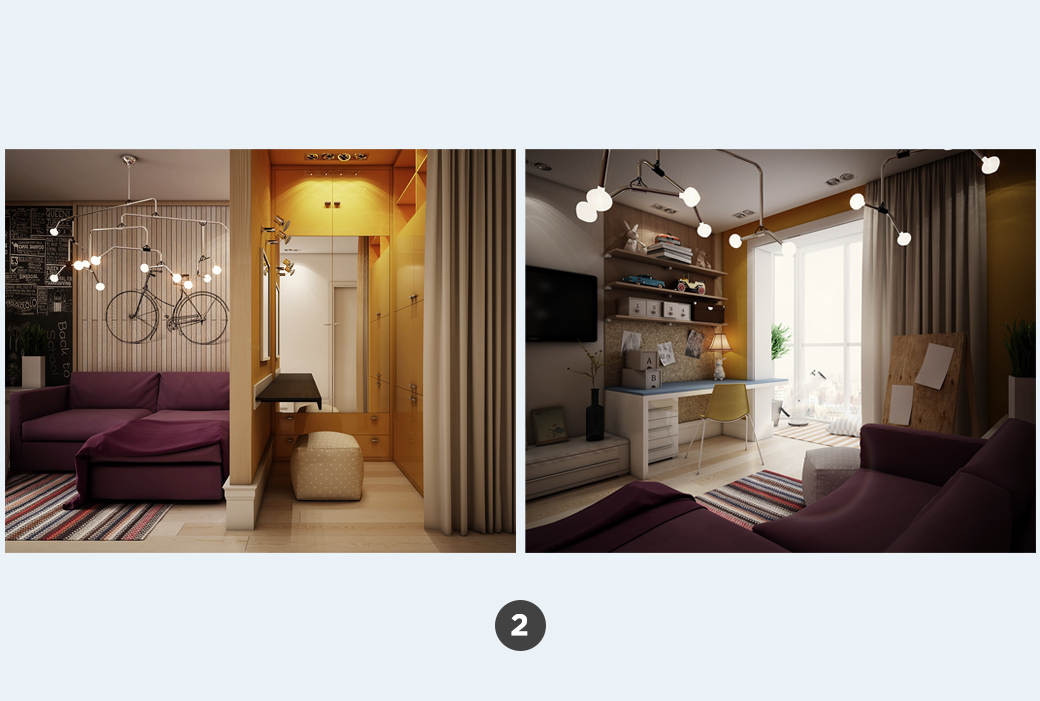 3. Blue and yellow is a classic combination, however, this room is made in a modern style, so these two colors no longer seem classic and old-fashioned. The design is simple at first glance, but modern details, distinctive accessories and original shelves make the room a favorite place for a teenager. The lockers are placed in such a way that the teenager, who is still untidy and messy, does not feel uncomfortable with his own disorder. Here you will find enough drawers for all things.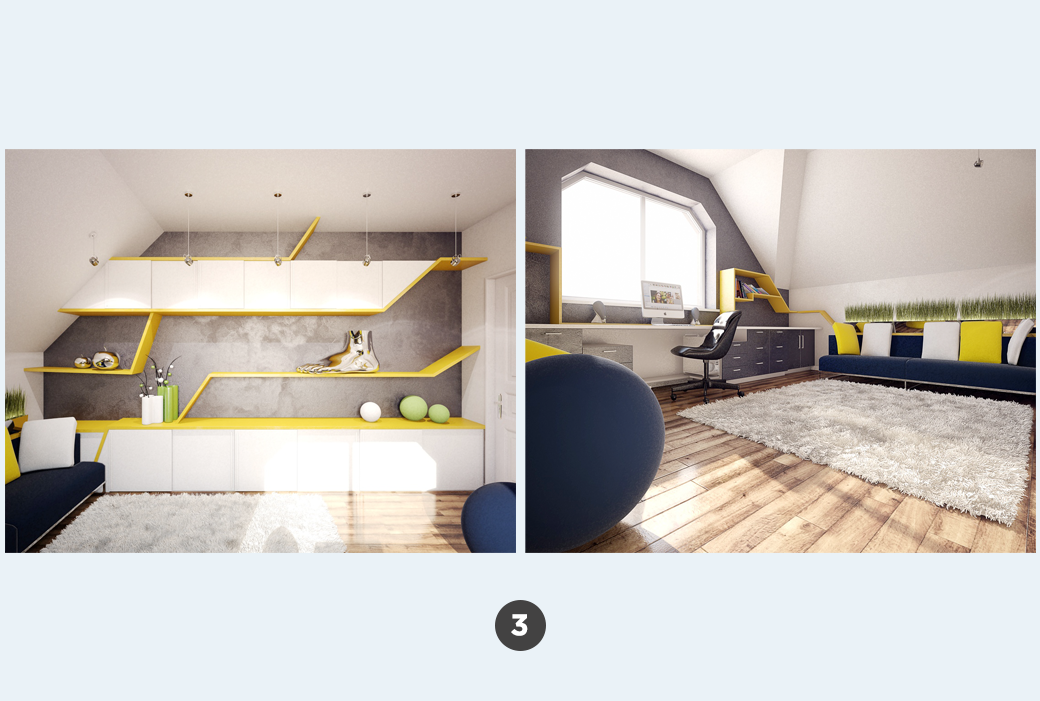 What to consider when arranging a teenager's room
Of course, we always want to choose the interior of any room according to our own taste. However, when it comes to the teenager's room, we have to put aside our taste and create an interior that is as suitable as possible for the child.
Choose a neutral topic - teenagers change their opinion and taste very often, so you may get bored of a particular topic soon, or it may not be enough to reveal your personality. What you can really choose is a functional, modern theme with technological details that can be used on different "gadgets". Also, it will be a good decision to use transformable furniture, because it will adapt to your own wishes.
The right color palette - choose the color according to the taste, not the gender of the teenager. Avoid heavy use of red color as it causes irritation in teenagers. If you like red, use it as a small decoration, for example in pillows, posters and small things.
Leave room - Be sure to leave room for stickers, posters, vinyls. A teenager is constantly exploring himself, he may be interested in online games, cars, comics, movies, technological developments or anything else. Therefore, leave space for inspiration.
Use a lot of storage - it doesn't matter if the room is small or big and how big the closet is, you still need a lot of storage so that the little things can be stored exactly as the teenager wants.
Create a work space - the teenage years are crucial for education, so it is necessary to have a comfortable work area in his room. No matter what a teenager is interested in, he will always want to do his own thing and, as an adult, have his own workplace.
Teenagers are under a lot of stress as they try to socialize, follow trends and find themselves. Therefore, they really need a place where they can express themselves and be comfortably isolated. Always ask for their opinion, because it's their room, and creating a room that caters to their interests will make them feel like you understand, are open, and are there for them.
And with Archi Card, you can buy furniture, equipment or decor for a teenager's room with a discount in partner companies. This is a discount card specially designed for Archi residents, which will be given to you as a gift upon purchase of the apartment.