It is always up to parents to organize children's rooms. They usually start to find a space and arrange it for their kids even before they are born. Design can be a result of parents' imagination or recommendations from an interior designer. If you are a parent and need some tips on how to organize a kid's room, have a look at these helpful rules to ease your task
Neutral look
The overall look of a kid's room is recommended to be neutral. This is the best way to lower spending as well as to create a pleasant interior equally for kids and parents. Everything in a room: ceiling, floor, walls, and lighting should look neutral and reflect individual style.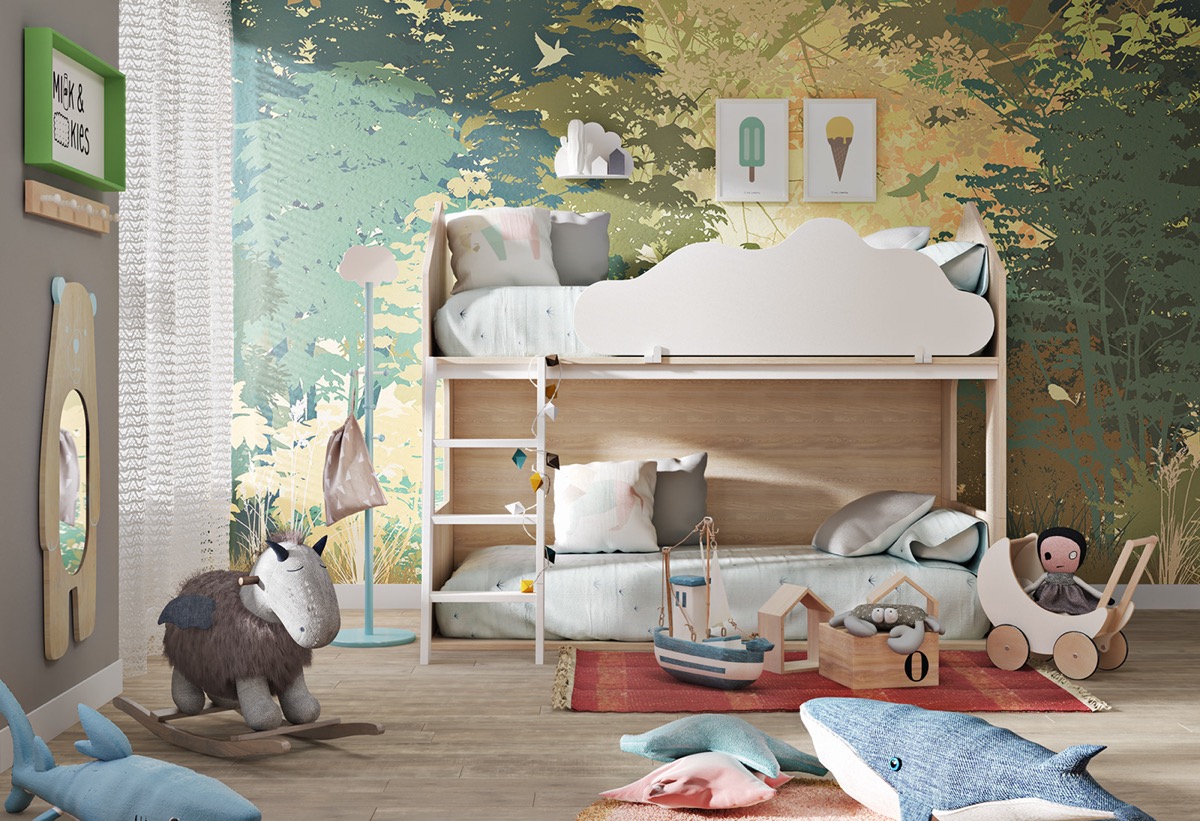 Decor
Bedding, cushions, curtains, stickers, posters, rugs, or pictures are important decor elements to bring life into the room. Note that these items should be easily replaceable as kids grow and change and so does their taste.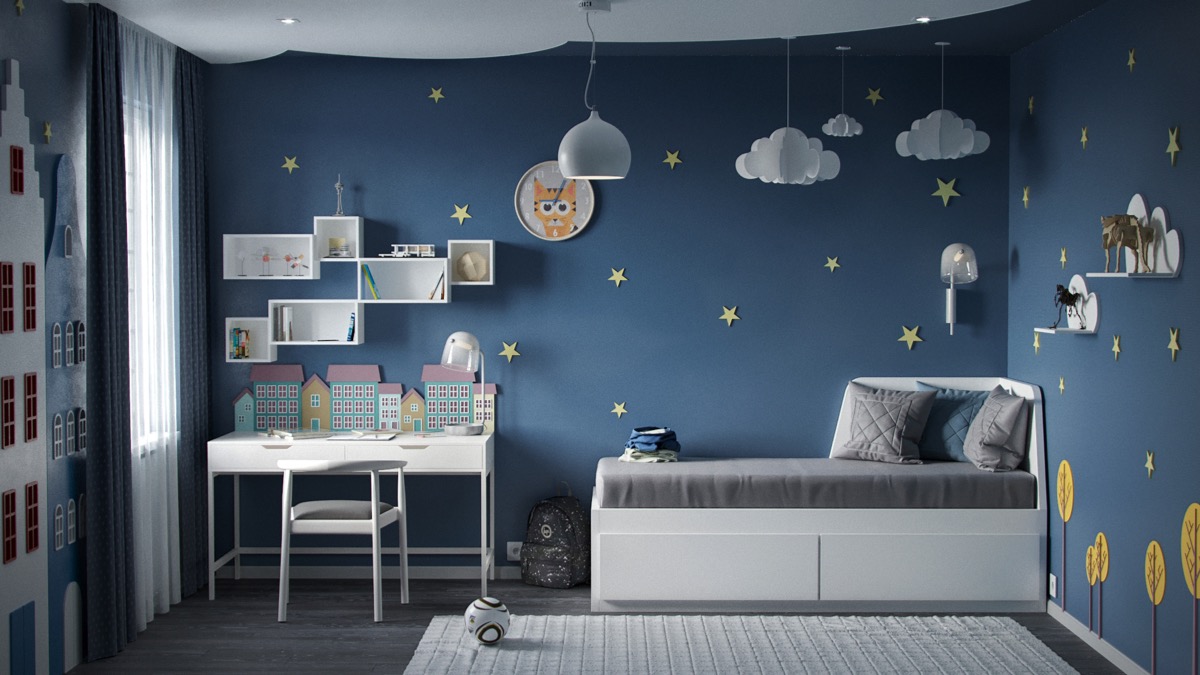 Material
The best flooring material for children's rooms is laminate. Decorative gypsum and stone will be a good choice for walls. As for the ceiling, choose between matte stretch and gypsum plasterboard.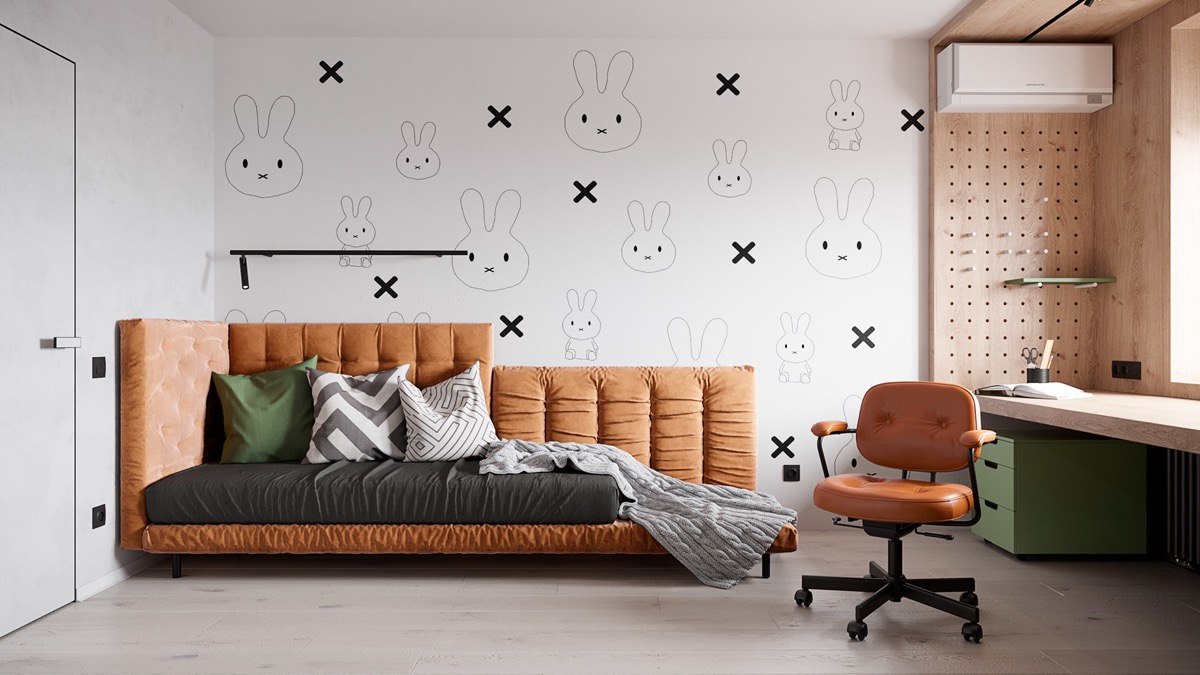 White furniture
Kids love colorful things, however, try not to overwhelm the room interior with too many colors. Go for white pieces of furniture so they balance out other colorful elements in the room. Avoid unnecessary furnishings, children will not be able to use, for example, a mini cabinet or a table. Open shelves and toy baskets will be the way to go.
Be careful with bright colors. Children might like them but they are believed to cause stress and aggression. Pastel colors such as light blue, pistachio, pale yellow and pink, turquoise, and light green will be the perfect choice for kids' rooms. Minimalist and Scandinavian interior styles are the recommended gender-neutral approach to a kid's room. Scandinavian style often uses white walls paired with wooden furniture and pastel décor items as accent colors. Parents usually choose a province style for a girl's room and a lofty style for boys. The heavy look of a lofty style can be balanced with warm colors such as gray, yellow, or brick colors. As for colors, go for white if you aim at a monochromatic interior.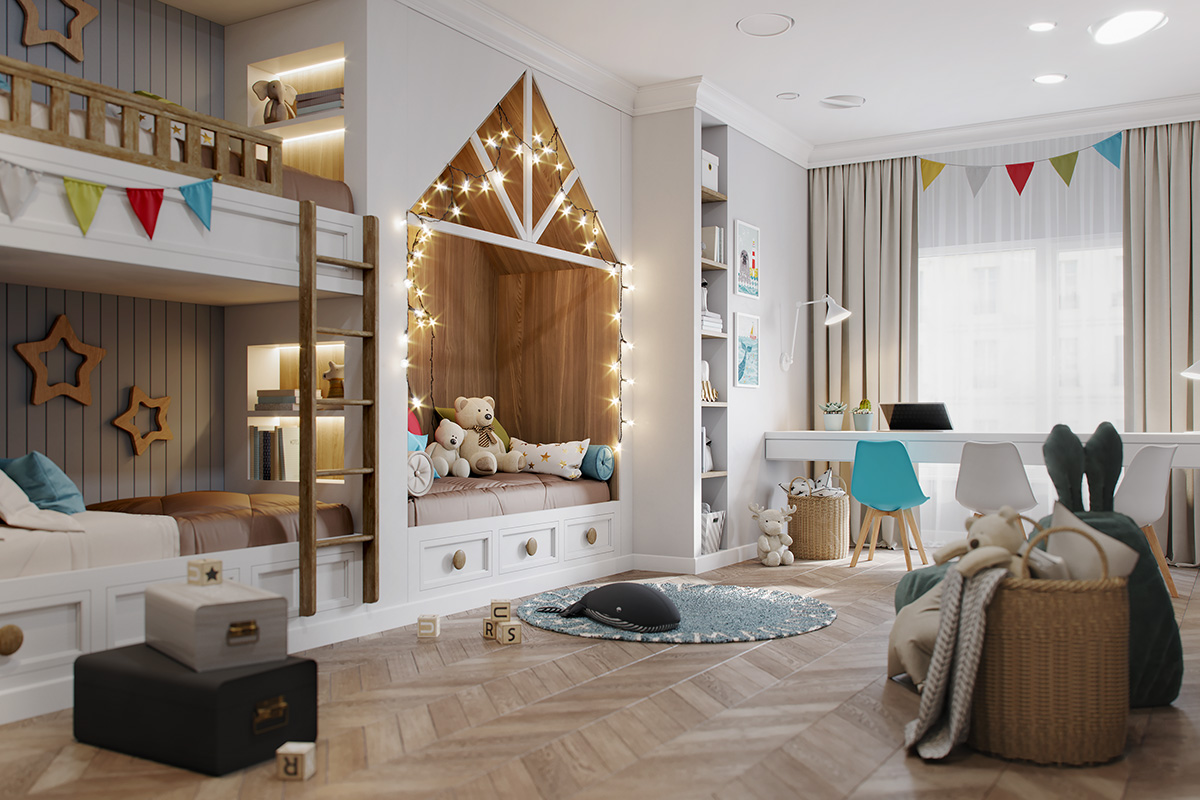 Zoning
Zoning is important in a children's room as they need to have separate areas for studying, playing, and sleeping. Children's rooms are usually small so partition walls will not be a good solution. Instead use shelf or cabinet units to zone off the space. Studying and playing areas should be larger than those for sleeping and resting.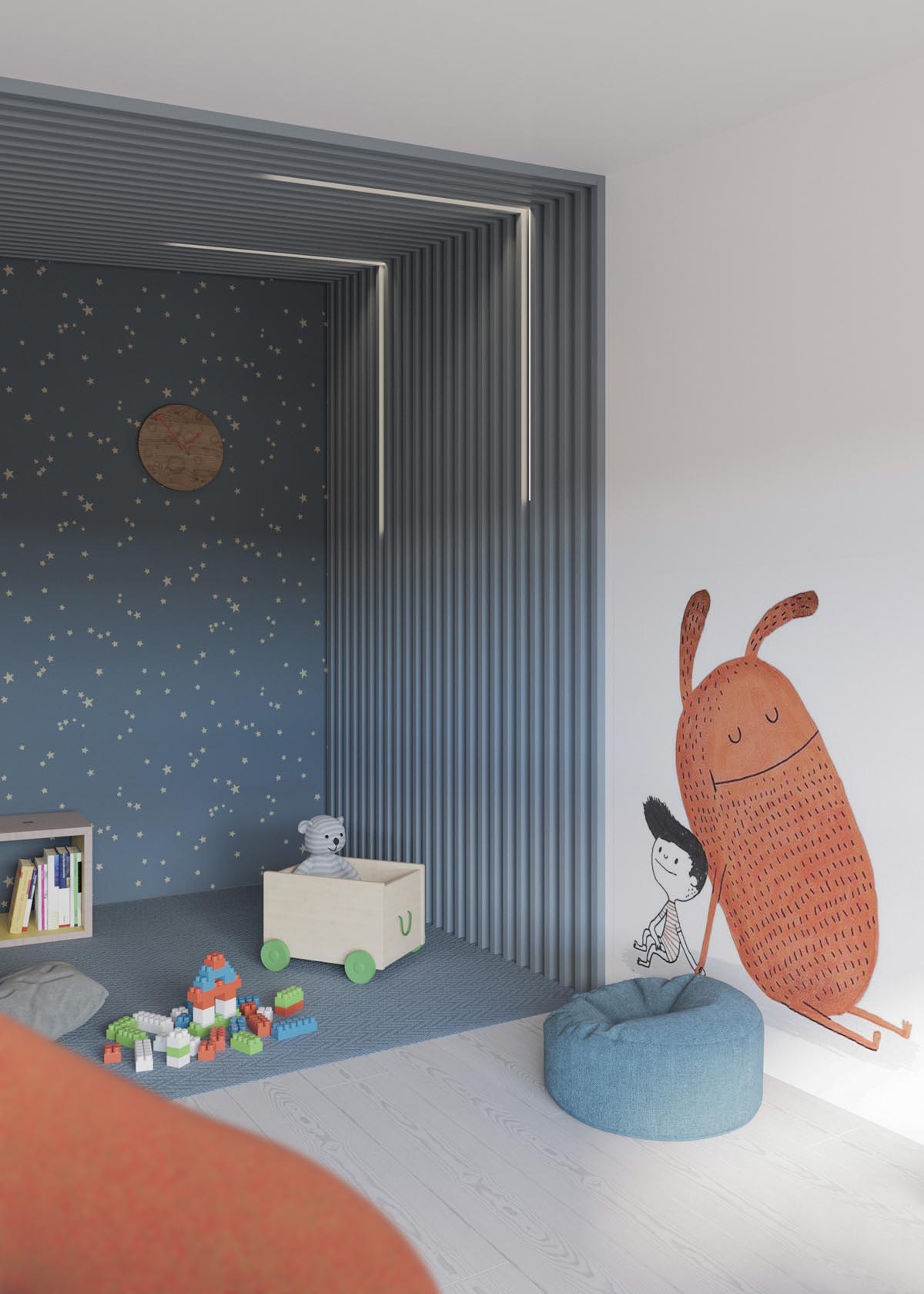 A bunk bed will be the most practical, aesthetic, and rational solution. Wardrobes, tables, sofas, and playing areas can be organized next to the bed.
Note that children love their own cozy spaces such as tents or fortresses built under the tables.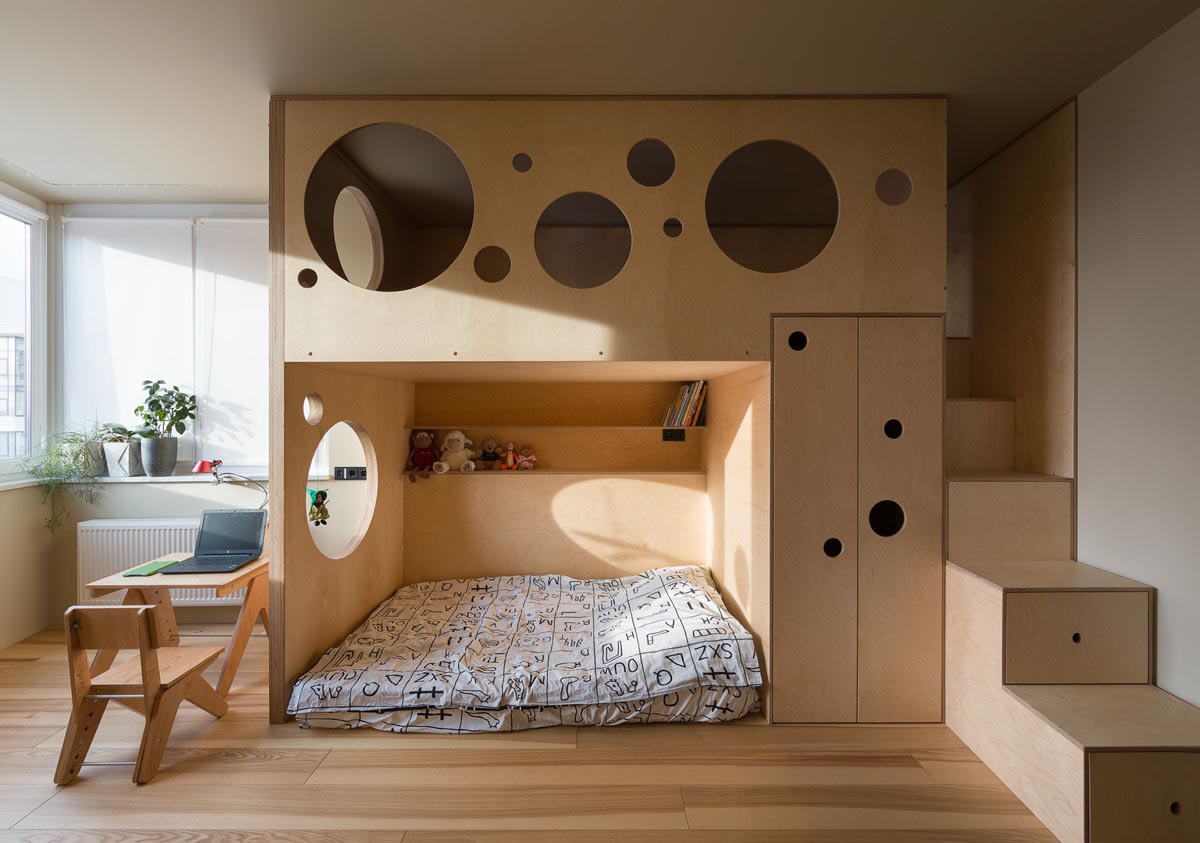 Author - Mariam Rokhvadze