Traditionally, one of the important moments of pre-Christmas preparation is the general cleaning of the house. In our previous blog, you received useful tips on organizing and cleaning the house. If you followed our advice, then your house is in perfect condition and you can now start preparations for the New Year.

That's why we offer a blog that will help you decorate your home for the New Year. Of course, the Christmas tree is the main element of the New Year's decor. No wonder there are so many styles of Christmas tree decoration.

There are different approaches to decorating the Christmas tree. Some people prefer to use what is already available in the house for decoration, while others want to incorporate jewelry that carries emotional value. There are people whose New Year's aesthetics and decoration change every year, depending on their mood. Of course, any approach is acceptable, the main thing is that the decoration corresponds to the New Year mood of a person.

In this blog, you will learn about some of the most popular and frequently used Christmas tree decoration styles.

Traditional

The traditional New Year's decoration is dominated by red, green, and wood colors. In most cases, natural spruce is used and the decorations are replaced with various natural elements. For example, cones and wooden toys, garlands, coniferous wreaths, tartan, and others. Gifts are usually wrapped in large ribbons and glossy paper.

If the environment allows you to do this and you have a fireplace, a real blazing fire is the best aesthetic element for traditional Christmas decorations. Creating a decorative fireplace is a pleasant task that will also contribute to a cozy mood. Turn on the sound of a bonfire and branches against the background of music, light candles with forest fragrance, and enjoy the festive coziness of the New Year.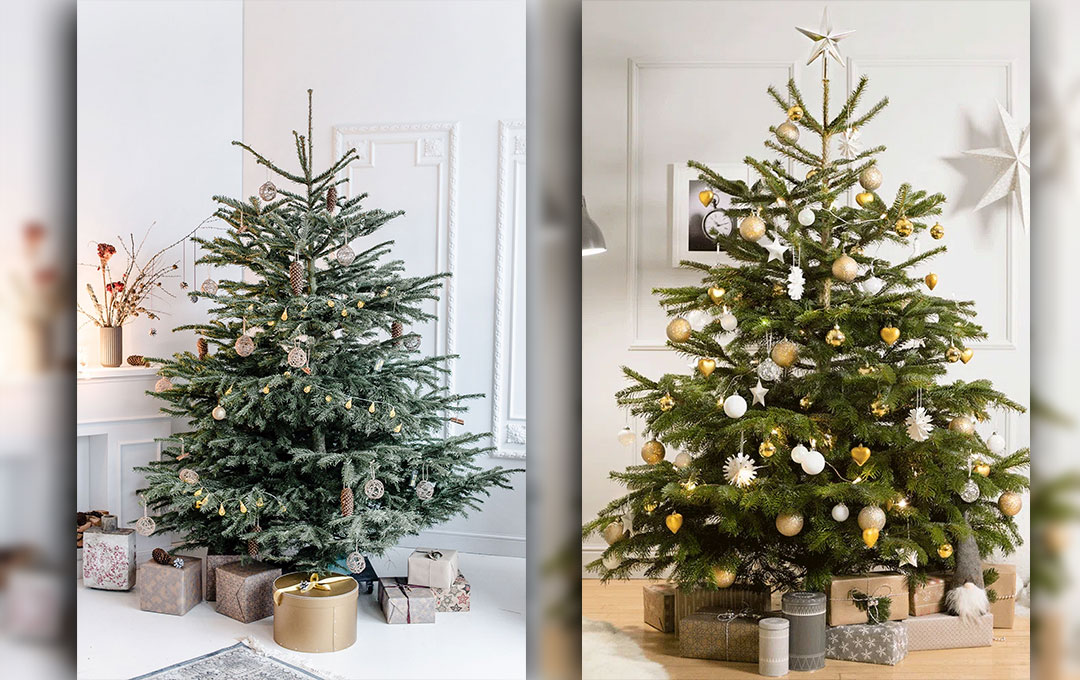 Minimalist

Minimalistic Christmas tree decor is the most gentle and simple style among other decorations. To get a minimalistic Christmas atmosphere, it is enough to put a Christmas tree in a wicker basket and combine its toys and decor with the existing design of the house.

Decorate the Christmas tree with small white or yellow lights. If you need toys to lift your mood, use white, black, or pastel colors. If you choose the minimalist approach, remember that simplicity is a symbol of sophistication.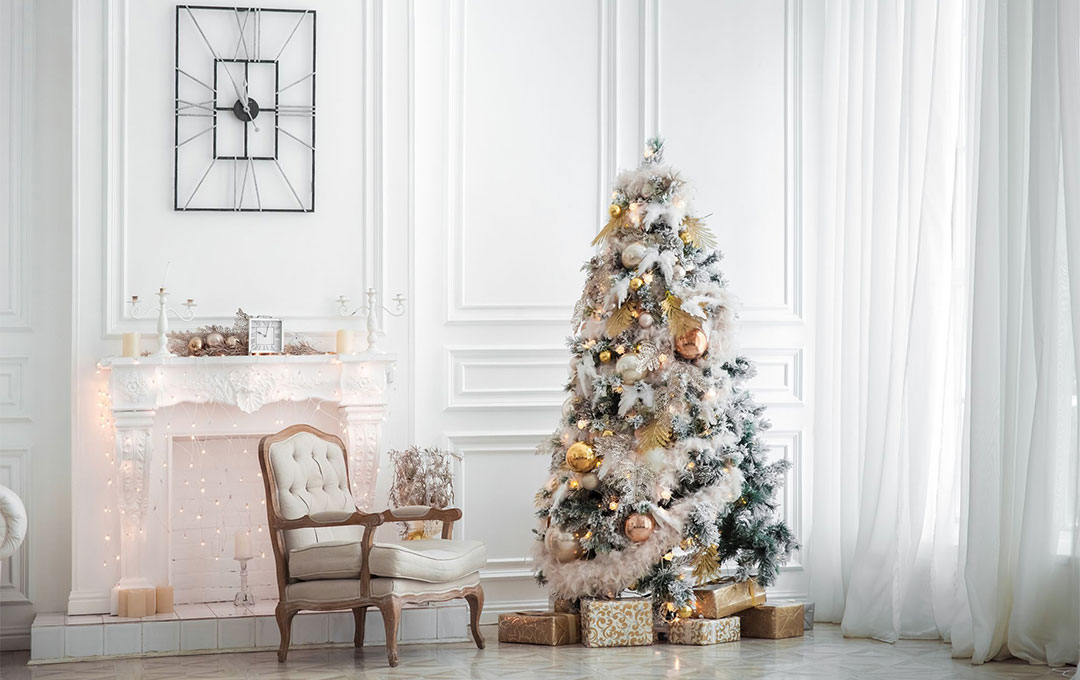 White Christmas Tree decor

The decor of the white Christmas tree can be presented in both white and natural colors of the Christmas tree. In our blog, we chose a green Christmas tree decorated with white toys and feathers. It is not necessary to decorate Christmas trees only with white toys, such a monochrome decor will be dull and less uplifting. Instead, we recommend using soft pastel tones or gold and silver, these two colors are most harmoniously combined with white decor.

To enhance the aesthetics of whiteness, a simple and effective way is to wrap gifts in white, gold, and silver colors or add white candles to the interior. You can also put a white or beige sofa next to the Christmas tree. If you don't have white furniture, use textiles in neutral tones for a chair cover. Finally, use only white or yellow lighting, do not add colored lights to the interior, as this detail can change the aesthetics of a white Christmas-New Year.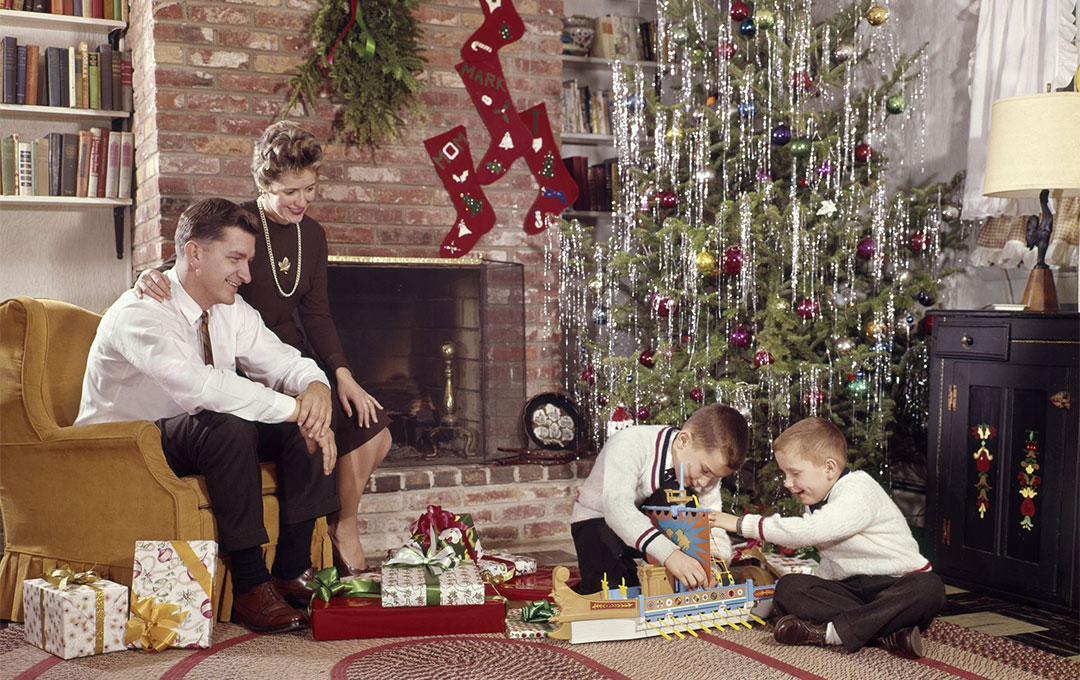 Vintage

Vintage Christmas decoration is a mixture of eclecticism and retro aesthetics. However, the vintage New Year for a Georgian person is associated with the aesthetics of the Soviet Union. Recently, toys and raincoats of that period have become relevant and fashionable all over the world, both in Christmas decorations and in the fashion industry. If you want to bring a vintage New Year mood to your home, this is the best chance to revive decorations from childhood. If you have not found old jewelry in the house, do not despair, as we have already mentioned, such jewelry is still in fashion, so it will not be difficult for you to find them in toy stores.

And if you are looking for a real vintage, the so-called flea markets and open markets near the Dry Bridge are places where you can find vintage Christmas items that date back several decades and carry history. The list of popular vintage toys includes the Nutcracker, Rudolph the Reindeer, the Railway Train, the Angel, and the Horse. Glossy garlands will be useful for decoration.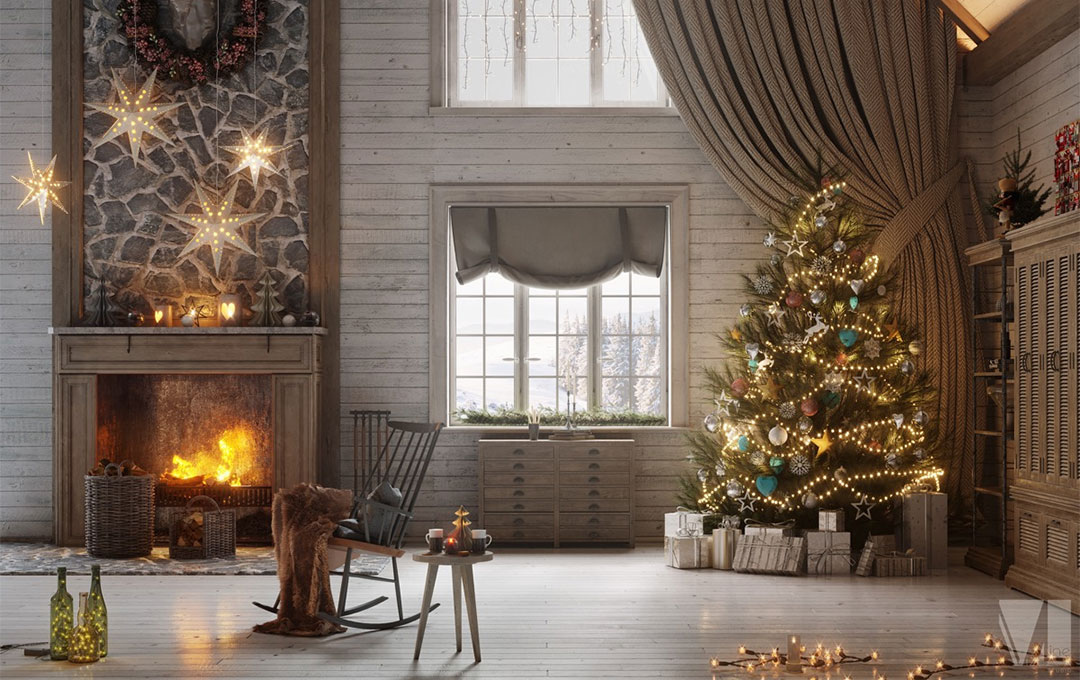 Scandinavian

Scandinavian decor is said to be between the traditional and minimalist styles. It has a simple and nature-friendly aesthetic look. Use neutral colors and include natural elements in the interior decor, such as pine trees, cones, berry branches, acorns, walnuts, pumpkin, etc.

Then decorate a Christmas tree, keep in mind that the emphasis should be on the pine needles, so do not overload it with either large toys or colorful flowers. The Scandinavian style is characterized by earthy colors: brown, green, orange, yellow, black, and gold.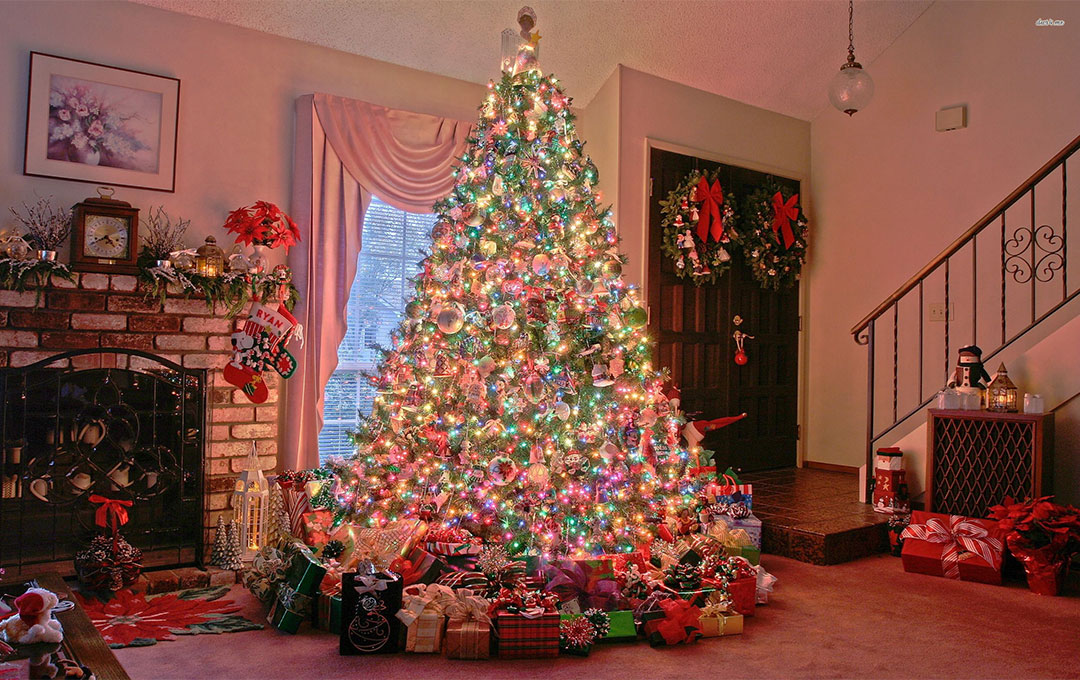 Sparkly

The main value of glittery jewelry is its spectacular colors. Do not be afraid to adorn the Christmas tree with a lot of fresh colors, even if these colors traditionally do not belong to the category of New Year's colors. The function of this style is to bring an unconventional aesthetic. You can freely combine the colors used in the Christmas tree with the New Year's decor in the house.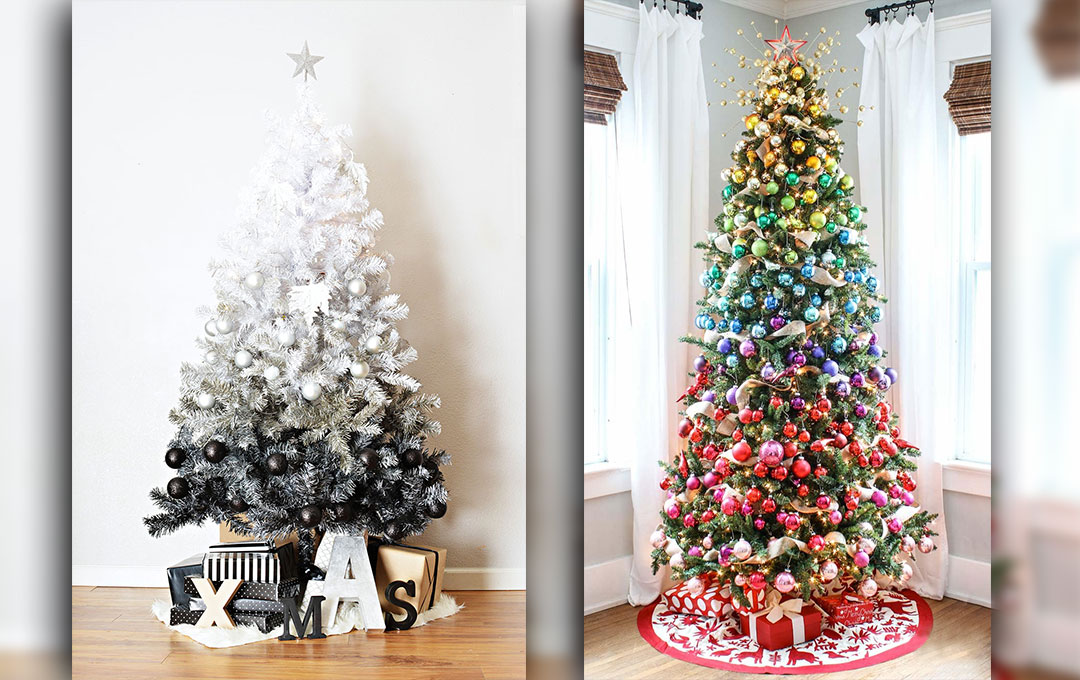 Ombre

The ombre Christmas tree is one of the rarest but uniquely effective styles. Although it requires more effort and toys than usual, the result is definitely worth it. The gradation of colors fully depends on your mood and taste. For one Christmas tree, you can use all the gradations of colors, or choose two or more colors and sequentially apply the ombre effect.

For the best effect, I recommend combining Christmas pines with ombre flowers. There is no need to buy colored pines for this. You can paint the traditional green spruce pines with spray or other dye and easily get the desired result.

Blue and Silver

Blue and silver are the best combinations to create a snowy and fabulous New Year's aesthetic. For this style of decoration, a snow-covered Christmas tree will be an ideal choice. Use blue, dark purple, emerald, and gold toys to feel a slight but noticeable color contrast.

In this blog, you have learned about 8 Christmas tree decoration trends. We hope you have received interesting and useful tips. Decorate your home for the New Year, and most importantly, create a festive mood.

In addition to recommendations, Archi constantly pampers residents with various offers. Archi residents can take advantage of special discounts when buying home accessories, furniture, decor, appliances, or plants. For more information about discount cards, you can read the article about the Archi Card on our website.