History begins at home. Our choice of house defines the way our history is shaped. Four walls and a roof alone do not make up a home. We and our loved ones are supposed to live in a cozy and high-quality environment. That's why we have to consider different aspects when looking for a house. These aspects should include the neighborhood, accessibility, infrastructure, recreational area, and a children's sports stadium or a playground. Archi strives to combine all these aspects into its projects to fit each resident's needs.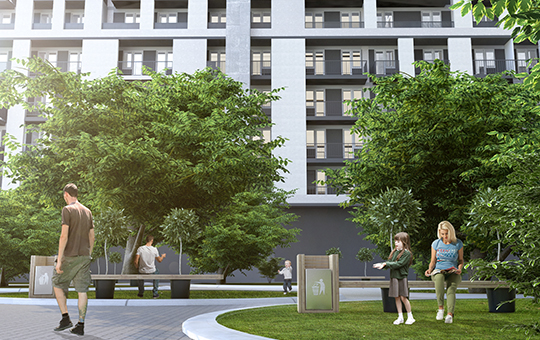 Archi aims at constructing residential buildings with a minimum of damage to the natural environment. For instance, each 10 sq. m of Archi construction involves planting a new tree. Archi Wood in Dighomi Massive, which is currently under construction, is one of the projects that illustrates our great consideration for nature. The Archi team has already planted 60 spruce trees in the area and plans to continue the process after the construction is completed. As for Archi Wood itself, the place will soon become an oasis for green zone lovers. The 17 (or 16)-storey project will incorporate an open and a closed 3-level parking place. Two storeys have already been completed. The Archi team focuses on green zones and comfort and as a result, Archi Wood will ultimately have a 3,000 sq. m recreational area including a playground and a resting space. In addition, those who have children may visit Astra Park, an amusement center next to the building, or Dighomi Forest, which is just a 5-minute walk from Archi Wood.
Archi offers a number of interesting projects in one of the most sought-after neighborhood in Tbilisi, Didi Dighomi. The A, B, C, D, and F blocks of Archi Dighomi Complex are currently being constructed along Petre Iberi Street. Each block is scheduled to incorporate multi-level parking places and triple 5,000 sq. m recreational areas for the residents. Peace and quiet will contribute considerably to our cozy housing. The façade of the complex in Didi Dighomi is equipped with insulation blocking noise from the neighbors.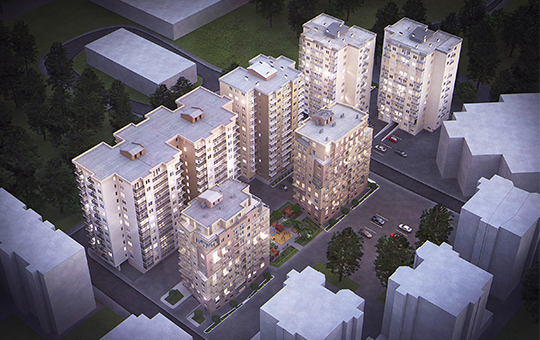 The 18-storey complex of Archi Dighomi 2 is being constructed on Parnavaz Street in Didi Dighomi. The project will eventually include 4 residential buildings. The construction of the A building has already been launched. Meanwhile, a 10-storey building on Giorgi Brtskinvale Street incorporates a recreational area and a playground. All three complexes of Archi Dighomi are located near the Goodwill supermarket which will save you substantial time.
Saburtalo is considered to be one of the central parts of Tbilisi. The district is a favourbale option for house seekers due to its proximity to the center of Tbilisi. Archi Saburtalo complex includes three blocks. The project will probably attract a lot of students because of the number of universities and the University metro station located near the complex.
The Multifunctional Residence in Isani unites three blocks. The total investment cost of the project is 60 million US dollars. The project, which is currently underway, is located in the central part of the district next to the Carrefour supermarket and a 2 to 3-minute walk from the metro station. Imagine that your residential building is surrounded by a trade center, a school, and a kindergarten, this is how the completed project will look in Isani. It is the best offer for families with children.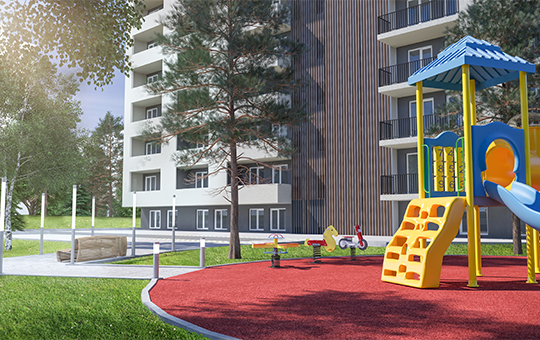 Despite its distance from the center of Tbilisi, Gldani district still has lots to boast about. You should not expect poor infrastructure in the District. Actually, it is the other way round. There's a shopping center, Gldani Mall, the Akhmeteli Theatre metro station , pharmacies, and various eating venues which are only a 5-minute walk from Archi Gldani complex. The complex of 3 blocks fully satisfies the needs and interests of the residents.
The residential complexes in Vazisubani are located on Pataridze and Muskhelishvili Streets. The houses are affordable and of unusual architecture. The projects are currently under construction.
Archi uses ecologically clean construction materials. Energy-efficient and fire-proof blocks (preserves the room temperature longer and saves energy by 40%) supplied by the German company Ytong are used for the construction of Archi Tower (Chavchavadze Avenue), Archi Paliashvili, Archi Tsinamdzgvrishvili, Archi Bagebi, Archi Mtatsminda, Archi Nutsubidze, Archi Tamarashvili and Archi Batumi together with all the residential complexes mentioned above.