People spare no effort to transform their apartments into a comfortable place to live in, especially if they live in a city. One of the most important parts of an apartment is a balcony. It is a place where we get fresh air, drink coffee, read, or enjoy beautiful views from the balcony. If we want to get pleasure from being on a balcony, first we should think about the interior design. Initially, we need to choose the type of outdoor flooring that would make the balcony look cozy. Aside from its beautiful look, outdoor flooring should be characterized by durability and usefulness. Besides, it is supposed to be resistant to freezing, heat, rain, snow, and ultraviolet light. The best flooring material for the balcony is ceramic granite tiles.
Why ceramic granite flooring?
Ceramic granite tiles are the best material to be used for outdoor flooring. It is durable, low maintenance, and resistant to humidity, sunlight, and freezing. Besides, ceramic granite tiles options are incredibly vast, and more importantly, they never go out of style. They come in all shapes and sizes. Moreover, some of them imitate the look of wood and leather. That is why the demand for ceramic granite flooring is more and more increasing. In addition to its durability, the tiles require less care, giving you more time to drink coffee or enjoy the view on the balcony. If you buy an apartment with premium frames in Georgia, you will not have to think about the outdoor flooring. Premium frame projects incorporate balconies with ceramic granite flooring.
In case of buying white frame projects, it will be up to you how you will design the outdoor flooring. The selection process can be interesting and enjoyable. Have a look at some options: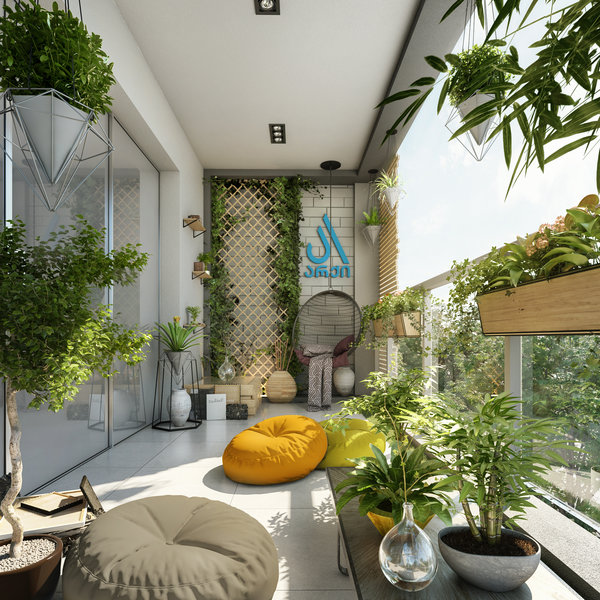 Natural stone flooring is quite expensive and durable option. In addition to its decorative function, natural stone brings coziness and warmth to the space. Stone tiles are great for keeping cool in the hot summer. As a result, your summer days will be more enjoyable if you have natural stone flooring on the balcony.
Ceramic tiles have maintained its popularity to this day and probably will never go out of style. The tiles are easy to wash and scrub. However, keep in mind that they absorb moisture, causing water to freeze in winter.
Laminate, linoleum and PVC flooring
Laminate, Linoleum, and PVC floorings are affordable and low maintenance materials. They can easily be removed and replaced with new ones. All of them are characterized by their unique features and can effectively be used in other rooms too.
Artificial grass flooring
Artificial grass flooring will transform your balcony into a green space. Fake grass looks as good as real garden lawns. What is more, the artificial grass tiles are resistant to ultraviolet and sunlight. High-quality fake grass can last 15-20 years.